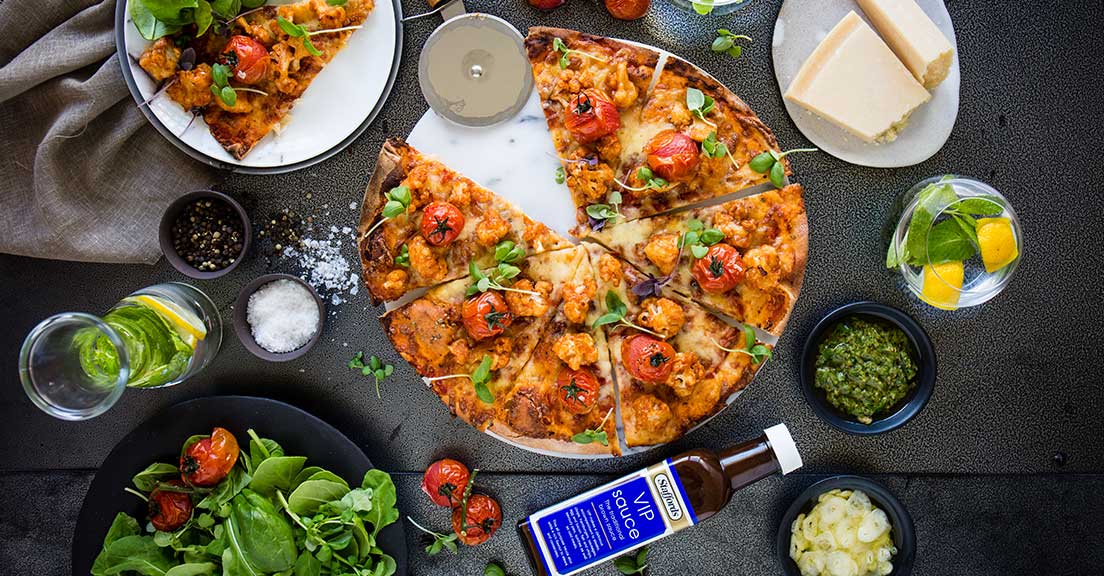 Makes 2 pizzas
Ingredients:
125ml water

125ml flour

1 head of cauliflower

2 Tbsp Sriracha

1 Tbsp rice wine vinegar

2 Tbsp VIP sauce

1 Tbsp honey

2 pizza bases

2 Tbsp olive oil
¼ cup onion, finely diced

1 tsp dried oregano

1 tsp dried basil

3 cloves garlic, finely grated

1 tin Italian crushed tomatoes

2 Tbsp VIP sauce 
1 tsp sugar
1 tsp salt

300g mozzarella

Handful cherry tomatoes

Fresh micro basil leaves
Method:
Preheat oven to 200˚C.

Whisk together the flour and water until smooth.

Slice the cauliflower into little florets.

Toss the cauliflower in the flour mixture until well coated.

Spread onto a lined baking tray and bake in the oven for 8 minutes. Stir all the florets around and bake for another 8 minutes until the batter has some crunch and colour to it.

In a small saucepan combine the Sriracha, vinegar, VIP sauce and honey. Bring to a simmer and take off the heat.

Toss the baked cauliflower through the hot sauce and return to the baking tray and bake for a further 10 minutes. Set aside.

In a small saucepan over medium heat, add the olive oil, onion, oregano and basil. Stir until the onion is translucent. Add the garlic and continue to cook for another minute.
Add the tomatoes along with the VIP sauce, sugar and salt and simmer for 30 minutes. Set aside.

At least 45 minutes before baking, place a pizza stone on an oven rack set to the top position and preheat the oven as high as it can go.  If you don't have a pizza stone, no problemo- bake the pizza right on a lined baking sheet for a little longer.
To assemble your pizzas:
Flour surface well. Spread some of the homemade tomato sauce evenly over the pizza base, leaving a border along the edge. Place 8 to 10 chunks of mozzarella or grated mozzarella evenly over the pizza. Drizzle with extra-virgin olive oil and sprinkle with with salt. Slide pizza onto stone and bake until cheese is melted and crust is spotty brown, 6 to 12 minutes total. Carefully pull pizza half way out of the oven and top with the spicy cauliflower. Bake for another 2 to 3 minutes. Remove from the oven and transfer to cutting board. Top with fresh micro basil, slice, and serve.