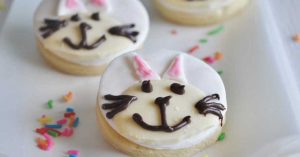 Preparation time: 20 minutes + chilling
Setting time: 10 minutes

Ingredients
250g flour

100g unsalted butter, cubed

100g icing sugar

75g Staffords Choc Chips

1 free-range egg, beaten

50g Staffords Milk Chocolate Disks placed in a strong plastic bag with the top sealed, melted in a bowl of warm water


16 Staffords White or Milk Chocolate Disks
Method
For the biscuits, blend the flour, butter and icing sugar in a food processor with a pinch of salt until the mixture resembles fine breadcrumbs. Transfer to a bowl, add the Staffords Choc

Chips, egg and a little cold water to form a dough. Wrap in clingfilm and chill for at least 30 minutes until firm.

Heat the oven to 200°C. Roll out the dough on a lightly floured surface, cut out 8x7cm discs and put them on a lined baking tray. Bake for 10-12 minutes, until golden and crisp. Cool on a wire rack.


Now's the moment to let the kids loose and have some fun! Cut a tiny hole in one corner of the plastic bag (dry it off first). Use melted chocolate to stick on the chocolate disks for bunny ears and pipe a cute bunny face on each biscuit. The kids can pipe the rest of the chocolate straight into their mouths!