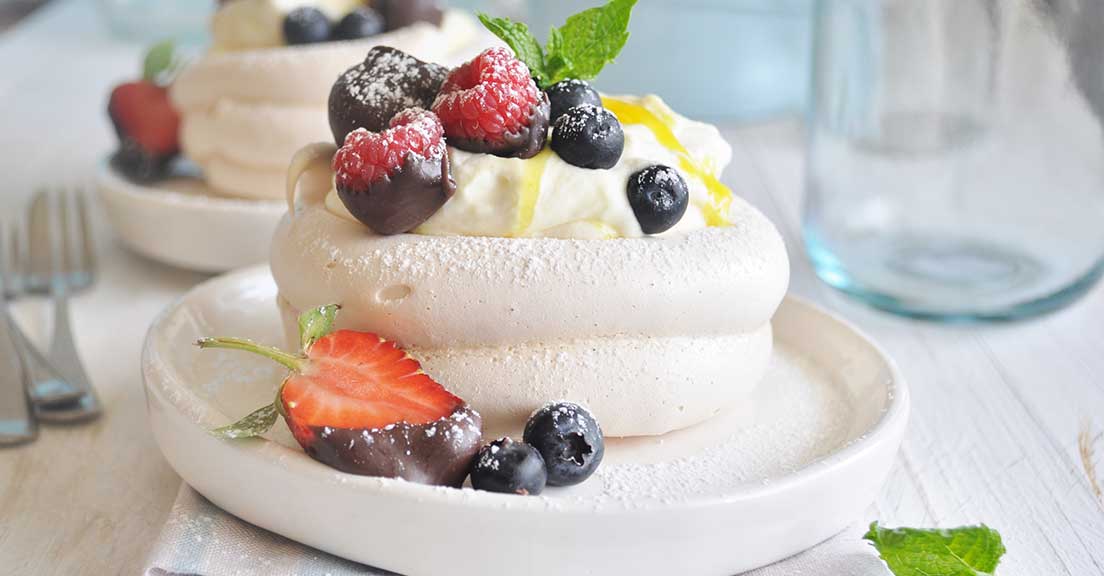 Preparation time: 25 minutes
Baking time: 1 hour 30 minutes + chilling

Ingredients
4 medium free-range egg whites

200g castor sugar

2tsp cornflour

1tsp lemon juice

2tsp Staffords Vanilla Extract with Seeds

1 x 150g pack Staffords Dark Choc Discs

400g fresh strawberries or other mixed fresh berries

250ml cream


½ x 500g jar Staffords Lemon Curd
Method
Heat the oven to 130°C. Line a large baking tray with non-stick baking paper.

In a spotlessly clean bowl, whisk egg whites until they form soft peaks. Add the castor sugar in stages, whisking until stiff peaks form – don't overwhisk the whites once they're stiff!

Now quickly whisk in the cornflour, lemon juice and Staffords Vanilla Extract with Seeds. Spoon onto the baking sheet, making a 23cm circle with a hollow in the middle. Bake for 1 hour 30 minutes until crisp. Turn off the oven and leave to cool.

Meanwhile, melt the Staffords Dark Choc Discs in a bowl over simmering water. Dip ⅔ of the berries in the chocolate and allow to set on a wire rack.

When you are ready to serve, whisk the cream until quite thick. Gently stir through the Staffords Lemon Curd to create a marble effect. Spoon the lemon cream into the meringue just before serving. Top with all the berries and drizzle with a little extra melted chocolate, if you like.