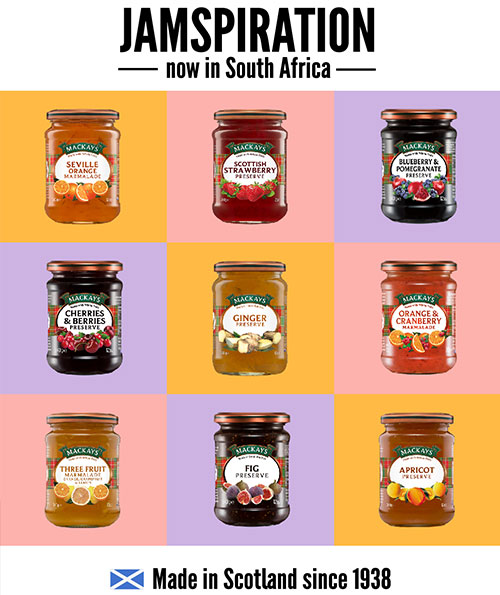 JAMSPIRATION FROM MACKAYS
Made the authentic way, in copper pans, since 1938
Stafford Bros & Draeger, leaders in fine foods in South Africa for over 90 years, has acquired the local distribution rights for Mackays handmade preserves and marmalades. Mackays, founded in 1938, has an equally proud heritage of creating the best quality, authentic preserves and marmalades using the finest natural ingredients.
"We are delighted to add another market leader to our range of international brands," says Patrick Lewis-Enright, chairman of Stafford Bros & Draeger (PTY) Ltd. "As a family owned company ourselves, we are Passionate About Food® and can relate closely to the premium quality and heritage values that have always been a Mackays trademark."
"Mackays products are carefully selected," continues Lewis-Enright. "All the strawberries, raspberries and blackcurrants for their preserves come from the berry fields of eastern Scotland whilst the bitter oranges in their marmalades come from Seville, the home of the marmalade orange. Mackays do not add colours or flavours to any of their products, and they only use whole berries in their preserves.
To this day, Mackays make their preserves and marmalades in small batches using traditional copper pans to create that inimitable homemade Mackays taste. And just to be sure of the quality and rich fruit flavour in every jar, experienced artisan jam makers taste every batch! There are no computers or robots in the Mackays factory; just people who are passionate about their products.
Mackays preserves and marmalades are available from selected Pick n Pay Family Stores. A selection from the range are available from selected Spar stores nationally.  The recommended retail price for the preserves is between R59.99 and R62.99 per 340g jar. The recommended retail price for the marmalades is R49.99.
Note:
Jams and preserves are basically the same thing except that preserves are chunkier or contain whole fruit as Mackays does. Jams often have a less chunky, even smooth texture.