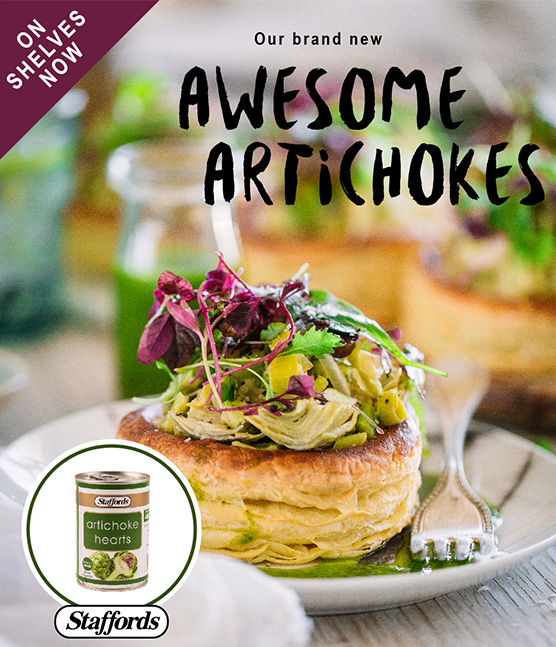 AWESOME ARTICHOKES FROM STAFFORDS – BRAND NEW AND ON SHELF
Fine food and ingredients specialists, Stafford Bros & Draeger (PTY) Ltd, are delighted to announce the addition of tinned artichokes to their high quality, trusted and ever-popular Staffords range of products.
"At Staffords we are Passionate About Food®," says Patrick Lewis-Enright chairman of Stafford Bros & Draeger (PTY) Ltd. "That's why we only partner with the world's top producers who understand, like us, that there can be no compromise on quality.
And our newly launched, tender and delicately flavoured, Staffords artichoke hearts are no exception. They are grown by one of our trusted international producers on a family-owned farm in Spain. Once ready to be harvested, the artichokes destined for South African supermarket shelves, under the Staffords name, are carefully hand-picked ensuring that only the cream of the crop is chosen for our brand."
Artichokes add an exotic touch to a meze platter, are wonderful pizza toppings and impressively delicious simply mixed into a plate of creamy pasta!  On their own they are a delicious, low calorie mid-afternoon snack or an inspiring addition to your regular office lunch salad. They're also fabulous on your tapas table, whipped into a dip!
"At Stafford Bros & Draeger (PTY) Ltd we always make every effort to ensure that all the products we develop under the Staffords brand name are the best they can be," concludes Lewis-Enright.  "Artichokes are probably Spain's best-loved vegetable and we are confident that, under the Staffords brand name, artichoke hearts will achieve the same status locally as they have in Spain."
5 Interesting facts about artichokes
Spain is the world's second largest producer of artichokes

The artichoke is a perennial thistle with large silver-green leaves that can reach almost 2m in height.

Until the 16th century, women were prohibited from eating them in many countries because they were still considered to have aphrodisiac properties.

In 1947 Marilyn Monroe, then still going by her given name Norma Jean, was crowned Castroville's first Artichoke Queen.

In 2010, the U.S. Department of Agriculture noted that artichoke leaves are rich in antioxidants and phytonutrients. This vegetable is also a great source of fiber, iron and minerals like magnesium.